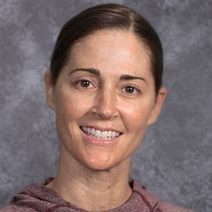 Mrs. Amy Gallo
Joined Erie Day School in 2003
Physical Education Educator
Cross Country Coach
agallo@eriedayschool.com
(814) 452-4273, Ext. 204
B.A.S. Nutrition & Dietetics — Youngstown State University
Certification – Health & Physical Ed. — Edinboro University of Pennsylvania
About Mrs. Amy
Mrs. Gallo received her teacher certification in Health and Physical Education from Edinboro University of Pennsylvania and her Bachelor of Science degree in Nutrition and Dietetics from Youngstown State University. She was a scholarship athlete at YSU and was a standout on the volleyball court — still holding the record for being the only volleyball player to be a four-time all-league selection and four-time all-conference selection, and receiving the prestigious Vindicator Award honoring one female student athlete a year for success in the classroom as well as on the court.
In 2009, Mrs. Gallo was inducted into the Hall of Fame at Youngstown State University and was inducted in the General McLane Hall of Fame for volleyball, basketball and track accomplishments in 2013. Through the years, Mrs. Gallo works hard to stay current in her specialty. She has attended several Governors Institutes, has been trained in SPARK (Sports, Play, and Active Recreation for Kids), is an active member of PSAHPERD (The Pennsylvania State Association for Health, Physical Education, Recreation and Dance), and has attended several state conventions. Mrs. Gallo is a coach for Erie Day School Cross Country Team, Lower School Soccer, and Get Up & Move again this year.
In her spare time she enjoys gardening and spending time with husband, Jaimen, and two sons, Jackson and Jonas, along with other family and friends.
Fun Fact
This is a test