Academics
Erie Day School's curriculum addresses academics as well as students' social and intellectual development, character and creativity. The school is broken down into three parts - Early Childhood, Kindergarten and Grades 1-4; and Grades 5-8. Details of each of these can be found below.

Erie Day School hosts an 8:1 student-teacher ratio. With our student-centered approach to learning, we recognize the research that suggests small group instruction is as effective as 1:1 tutoring. Our students are supported with scaffolds of support in learning, collaborating in a small, experiential environment.
Also, by extending learning opportunities beyond the classroom, we are able to provide students with an education rich in diversified experiences. We continually review and refine our curriculum. A deep understanding and a love of learning happens when teachers work closely with students to inquire, engage and create.
Early Childhood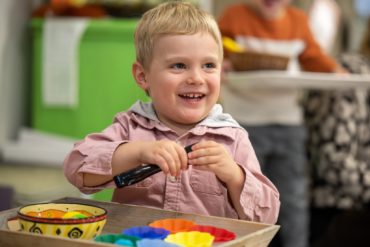 Toddler, Preschool and PreK, Ages 2 to 5

We strive to prepare the whole child to be ready for their learning future through carefully prepared environments, which allow the child to construct his/her own learning. Focus is placed on the social/emotional development of the children.
---
Lower School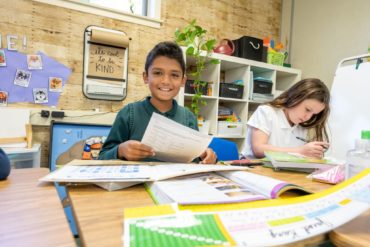 Kindergarten and Grades 1 to 4

The Erie Day School Lower School curriculum encourages children to explore, learn, create, and work cooperatively. The Lower School curriculum consists of reading, writing, speaking, listening, mathematics, handwriting, science and social studies.
---
Middle School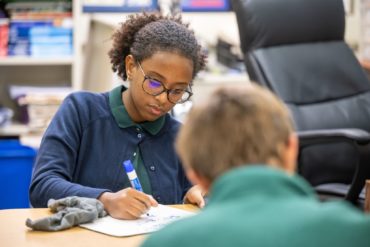 Grade 5 to 8
Erie Day School's Middle School education offers a personalized program for students. Its expanded academic curriculum encourages students to explore and pursue interests while fulfilling a challenging core curriculum.
Academic Extracurricular Programs & Experiential Learning
Academic Extracurricular Programs
EDS programs currently include: Math Counts, Speech & Debate, Model United Nations, Instrumentals, String lessons, Piano lessons, National Geographic Bee, World languages: Mandarin, First LEGO League, Get Up and Move!, Homework Support, Tutoring, and Entrepreneur Club.

Experiential Learning
Experiential learning programs include: Asbury Woods (K, Grades 3 & 4), Boston, MA (Grade 8), Chautauqua Institute, NY (Middle School), Cleveland Zoo, OH (Grade 3), Erie Zoo (T, PS, PK), Manufacturer's Day (Grade 6), NW PA Pet Emergency Center (Grade 5), Port Farms (K), Shaw Festival Theatre at Niagara-on-the-Lake, Ontario (Grade 7), Stratford Festival, Stratford, Ontario (Grade 8), Tom Ridge Environmental Center (Grade 3), Yahn Planetarium at Penn State Behrend (K), and Camp Fitch (Grades 3 & 4).
Academic Competitions, Honors, & Assessments
Academic competitions include: Math Counts, Speech & Debate, Model United Nations, National Geographic GEOBEE, and First LEGO League.
Academic Honors
National Junior Honor Society (NJHS)
Academic Assessment
The chart below outlines the Terra Nova student test scores from the 2019-20 school year (the last year the scores are available). Erie Day School students in Grades 1 through 7 scored above average in all tested areas.
GME (grade mean equivalent)—indicates the average per class in comparison with the grade level. For example, a 2.6 reflected in Grade 1 shows the average student is performing at a level of a student in Grade 2 in the sixth month.
EDS TP vs. NA (Erie Day School total point average)—demonstrates the average EDS total number of points accurate in comparison with the national average (NA).
TP (total points possible)—indicates the total number of points in each content area and grade level measured.
Terra Nova Academic Assessment Data

For additional information on academic courses and curriculum for specific grade levels, contact Dr. Tyler, EDS Head of School, at 814-452-4273.
---
Contact Sarah Williams, Director of Admissions & Enrollment, at 814-452-4273, or swilliams@eriedayschool.com for more information or to schedule a personal tour for you and your child(ren).