Middle School
Grades 5 to 8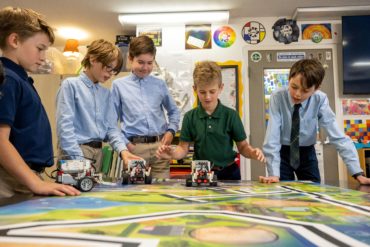 Erie Day School's Middle School education offers a personalized program for students. Its expanded academic curriculum encourages students to explore and pursue interests while fulfilling a challenging core curriculum.
With a foundation in the Common Core State Standards and PA Learning Standards, our curriculum offers students an individualized, multi-age educational experience with faculty committed to teaching cooperation, tolerance, and mutual respect.
The Middle School environment is a set of mixed-grade-level classrooms offering English, mathematics, general sciences, and social sciences as well as programs designed to engage students in performing arts, visual arts, foreign languages, and athletics. Students may also take high school-level geometry, algebra, biology, literature, and foreign language classes. By extending learning opportunities beyond the classroom, we are able to provide students with a rich, diversified education. Students explore museum exhibits, enjoy concerts, conduct online research, and attend theater productions. Students in Grades 7 and 8 travel annually to cultural destinations such as Boston, MA, and Washington, DC, among other regional locations.

Course Offerings
Course offerings are outlined in the document below. Among the listing is not only a set of requirements but also recommendations. At Erie Day School, we strive to meet your child's needs and attempt to accommodate not only our academic graduation requirements but the interests of each child.
SCIENCE: Life, Earth, Space, Environmental and Physical Science Courses including Chemistry and Biology
MATH: Pre-Algebra; Introduction to Geometry, Trigonometry, and Algebra; Algebra I (and Algebra II for advanced students)
ENGLISH: Grammar and Composition Courses; Literature Courses; Poetry Course
HUMANITIES: US History I and II; US Government; Modern Politics; 20th Century History; Medieval History; Western Civilizations; US Geography, World Cultures, and Religions; Growth and Development
STEM Courses

WORLD LANGUAGES: French, Spanish (and Mandarin, weekends)
VISUAL ARTS: Drawing; Painting; Sculpting; Fibers; Print Making
PERFORMING ARTS: Composition; Historical Eras; Instrumental
PHYSICAL EDUCATION: Skills-based; Game-oriented; Team-based; with an emphasis on Health and Fitness

---
Contact Sarah Williams, Director of Admissions & Enrollment at 814-452-4273, or swilliams@eriedayschool.com for more information or to schedule a personal tour for you and your child(ren).