Lower School
Kindergarten and Grades 1 to 4
The Erie Day School Lower School curriculum encourages children to explore, learn, create and work cooperatively. Active participation is a point of emphasis, and students acquire the basic skills necessary for the more complex concepts of Middle School.
A 'hidden' curriculum consists of social etiquette, character education highlighting Stephen Covey's 7 Habits of Highly Effective People, and environmental sustainability preparedness. Students also take technology skills, studio-based art and music classes on a weekly basis. Organized physical education is an important part of everyday life for students.
Enrichment and individual assistance are available from our learning specialists for students who may experience additional challenges or need academic support outside the classroom.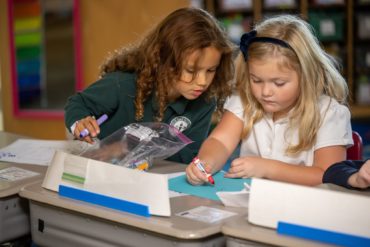 Programs
World language learning
Physical education classes
Experiential education with local destinations
Big buddy collaboration with Early Education and Middle School students
Remedial reading and math services
Barton tutoring
Enrichment services
Speech and language services
After-school activities
Core Curriculum
Reading
Phonics
Mathematics
Handwriting
Social Studies
---
Contact Sarah Williams, Director of Admissions & Enrollment at 814-452-4273, or swilliams@eriedayschool.com for more information or to schedule a personal tour for you and your child(ren).